The agreements feature allows you to create documents that can be signed electronically. Agreements can be emailed to your clients requesting a signature prior to a job, or signed on your mobile device at the inspection.
When you associate an agreement with one of your services, Tap Inspect can automatically send that agreement to your client when scheduling a job using the Messaging feature of the Scheduling system.
Enable Agreements
To start using and attaching agreements to services you must first enable the feature. From the Settings menu of your Tap Inspect web account, tap on Agreements. Toggle the Enable Agreements switch and tap on Save Changes.
Agreements
All of the agreements that you would like to have available in the scheduling system are listed and available to edit here.
Tap on any listed agreement to edit the agreement or tap Add Agreement to add a new one.
Add or Edit an Agreement
Define the basic Agreement Information and tap on Save Changes.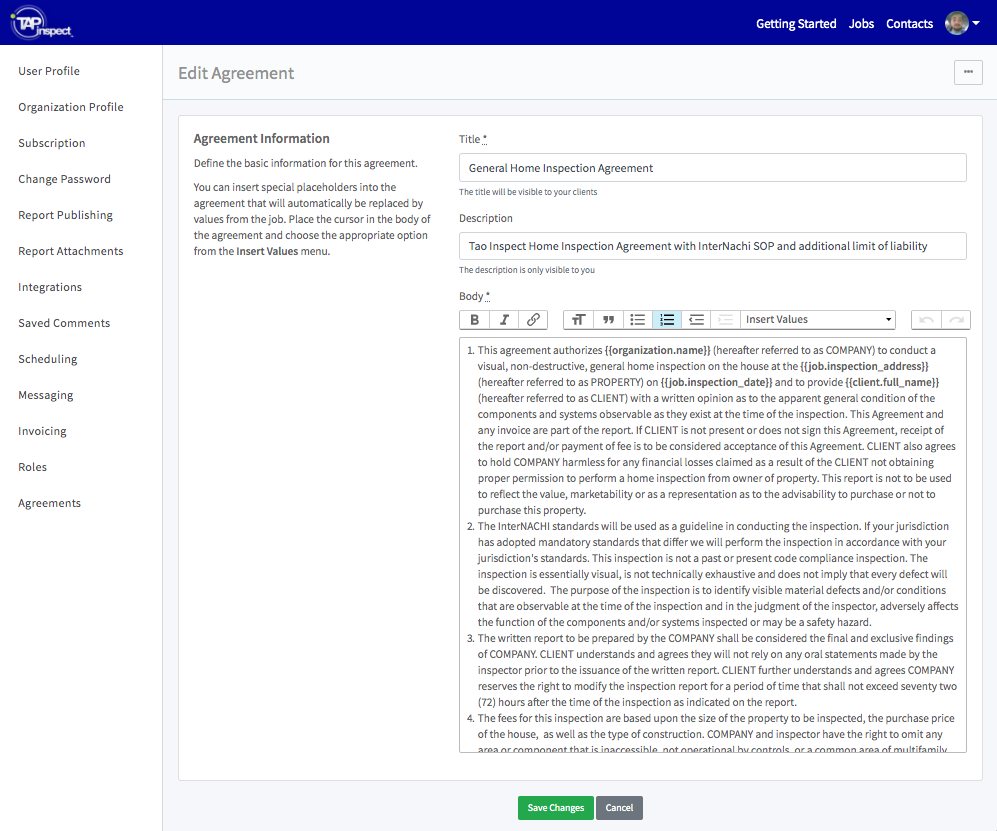 Title
The title of the agreement that is displayed to the general public.
Description
A longer description of the agreement. Primarily used internally by you and for reference.
Body
The body, or content of the agreement. You can insert special placeholders into the agreement that will automatically be replaced by values from the job. Place the cursor in the body of the agreement and choose the appropriate option from the Insert Values menu.