You can manage your Tap Inspect subscription and update your credit card from your Tap Inspect web account. Tap on Subscription in the user menu or go directly to your Subscription page.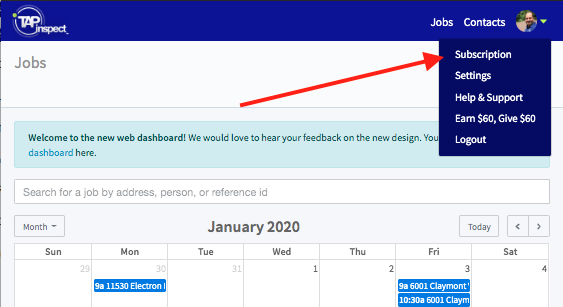 Before You Cancel
Cancellation only applies to the Tap Inspect monthly Unlimited and the Team subscriptions. Pay As You Go plans are prepaid. Cancellation does not apply to the Pay As You Go plan.
When your subscription is cancelled your account and your data will still be accessible from the Tap Inspection mobile app and your web dashboard. Any previously published or shared reports will still be available to you and your clients. You will no longer be able to publish or share any new reports or update any old reports once you cancel.
A cancelled subscription plan can be reactivated but only to the original plan type. If you are unsure you may want to change your subscription plan rather than cancel.
Cancel Your Unlimited or Team Subscription
From the Subscription page of your web account tap on Cancel Subscription below your Current Subscription.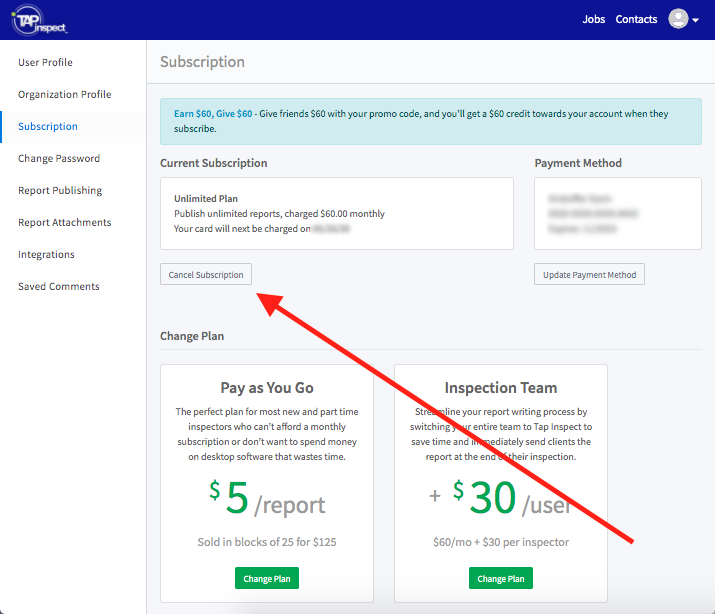 You will be asked to confirm the cancellation. This is to make sure you have not done this by mistake. You are given one last chance to change plans rather than cancel.