***It is important to know that when changing or cancelling a plan the change will go into effect immediately. Unused portions of the Unlimited or Team subscription will be credited to your account when switching to Pay As You Go. If you want to switch at the end of your billing cycle it is YOUR responsibility to make the change at that time. The next billing date is displayed on the Subscription page of your account.***
You're able to manage your Tap Inspect subscription and change your plan from your Tap Inspect web account.
Here are the Steps:
Tap

Subscription

in the user menu or go directly to your

Subscription

page.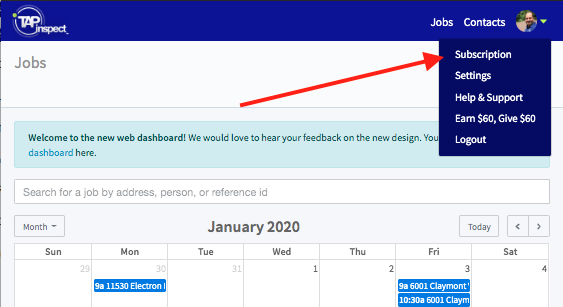 3. Scroll down past the Current Subscription section of the page so you can see the Change Plan section.
4. Tap on the green Switch Plan for the plan that you'd like to subscribe to.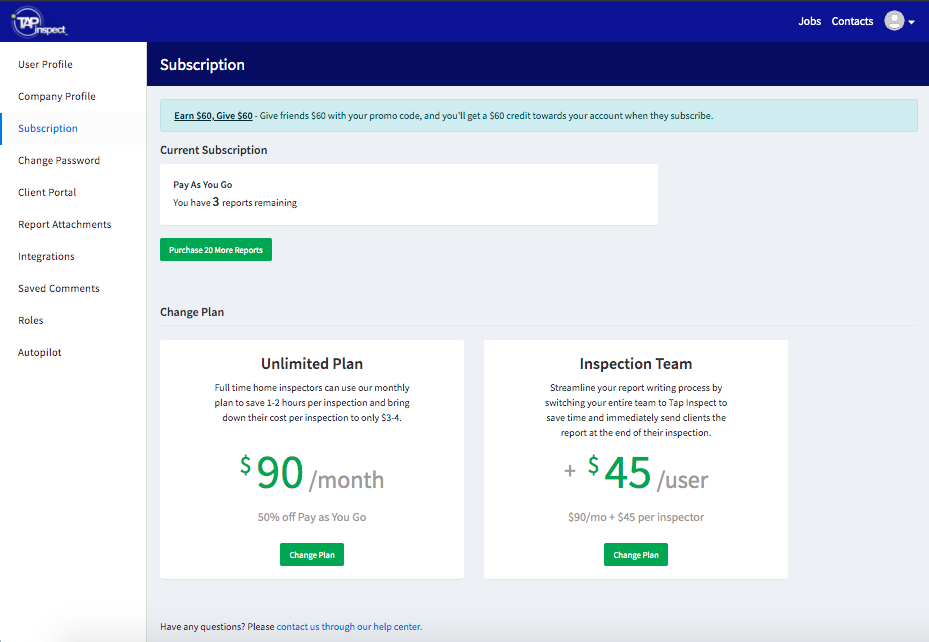 ***Important Items to Note when Changing Plans
Changing from Pay As You Go to Unlimited or Team
When you change from Pay As You Go to either the Unlimited or the Team plan you will be charged immediately and your new billing date will be the date that you changed plans. For example: If you changed plans on the 14th of July your account will renew on the 14th of each month thereafter.
Changing from Unlimited to Pay As You Go
If business slows down, it can be a good idea to change your plan from Unlimited to Pay As You Go. You can always change back again once business picks up.
When you Change the plan it will take effect immediately. Any unused portion of your current month's subscription will be credited to your account and you will be charged for a new block of Pay As You Go reports.
Changing from the Team Plan
Take special care when changing from a Team plan to another plan. Once you have removed any additional inspectors your Team plan is essentially the same as the Unlimited plan in cost and features.