Tap Inspect will warn you when the data connection between your device and our servers has had so many errors that the connection cannot be trusted for quality. This can result in corrupt data in your photos or in the data of the report so the system prevents transmission and notifies you.
The Weak Internet message can be a bit misleading and very frustrating. It is not always related to signal strength, how many bars you have, or how close you are to your WiFi router. It can be any step along the internet from your device, to your WiFi or LTE tower, your ISP, all the way to our data center we use on the east coast and back again.
If enough errors occur in a single data conversation we no longer trust keeping your data safe and close the conversation with a warning. This is the Weak Internet error.
How the Error is Displayed
The Tap Inspect app synchronizes with our servers every few minutes while you are using the app and are connected to the internet. This occurs in the background automatically.
As a user you will only see the error if you manually synchronize the app and the error occurs or if you are publishing a report and the error occurs.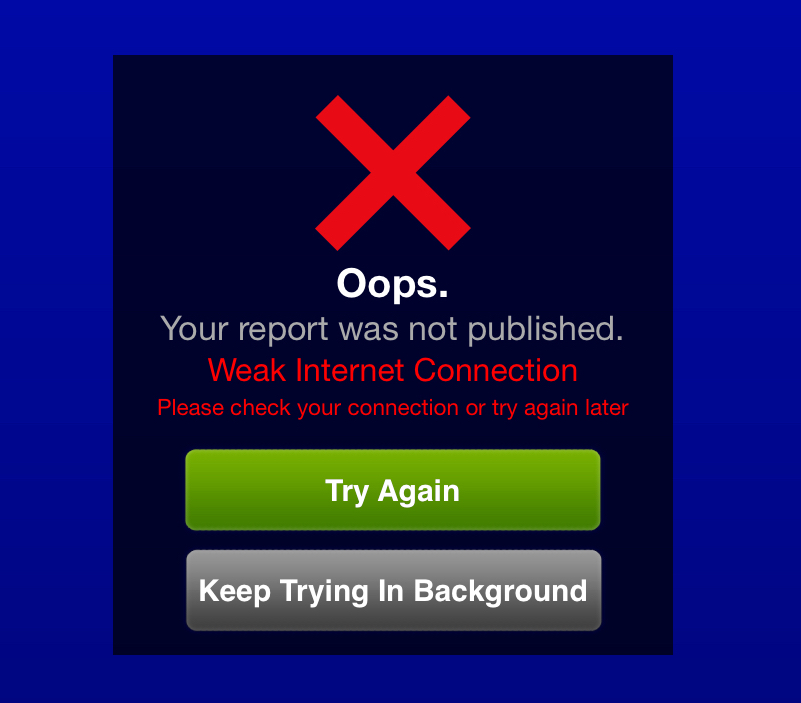 What Can Be Done to Clear the Error
The Weak Internet error has not been reported by anyone to have continued for a very long time. It will usually clear itself up after a little time, if your device moves from on cell tower to another, or you move to another WiFi. But not always.
Most of the internet is beyond both your and Tap Inspect's control. There are a few things that can be tried to get past the error if it is your device or in your control. Try each of the following tactics and then try to manually synchronize to see if it gets you past the error.
Do Not Delete the Tap Inspect App Until You Can Verify All the Data on Your Device Has Been Synchronized to our Server. Deleting the App Deletes All the Data along with the App Itself. BE VERY CARFUL.
Restart Tap Inspect
Shutting down and restarting Tap Inspect, like many apps, can typically fix many strange issues. Swipe Tap Inspect up off the screen and start it back up as the first line of defense for most issues.
Switch to Another Data Network
The simplest thing to try is to change the network your device is connected to. If you are on WiFi, switch to LTE. If you are on your home WiFi use your phone as a hotspot. If you are on LTE try a public WiFi network.
Toggle Device Data Services
Go into the Settings app of your device. Put your device into Airplane mode and take it back out again to reset the connections.
If that does not work, turn WiFi off in the settings and then back on again to reconnect to the WiFi network.
Restart your Device
Turn your device off and then turn it back on to reboot the whole system. This is about the same idea as restarting your router. It lets the system start fresh and clean and can often do wonders.
Reset the Network Settings of Your Device
Open the Setting app on your device and tap on General. Scroll down. Tap on Reset and then on Reset Network Settings.
This will reset your network settings of your device back to the factory settings and restart your device. If your device has cellular data, LTE will come on automatically. You will need to manually log in to you wifi networks again.
Considerations for Wifi Only Devices
If you infrequently synchronize your device and there is lots of data the synchronization will take much longer. This can be typical for people using WiFi only devices in the field and then coming back to WiFi to synchronize and Publish their reports.
That can greatly increase the likely hood that the threshold of errors that result in the Weak Internet error will be exceeded.
Many shorter synchronizations will be less likely to fire off the Weak Internet error than one very long synchronization with the same number of errors.