We have a few different Subscription plans to choose from. The best plan for you will depend on your volume of reports and how many inspectors will be using Tap Inspect.
Each of the plans provide essentially the same services and reporting features. The Team plan is an exception that has some features to make it easier to manage multiple inspectors.
There are no long term contracts. You can switch plans at any time if your business slows down, you get busier, or if you grow into a multiple inspector firm.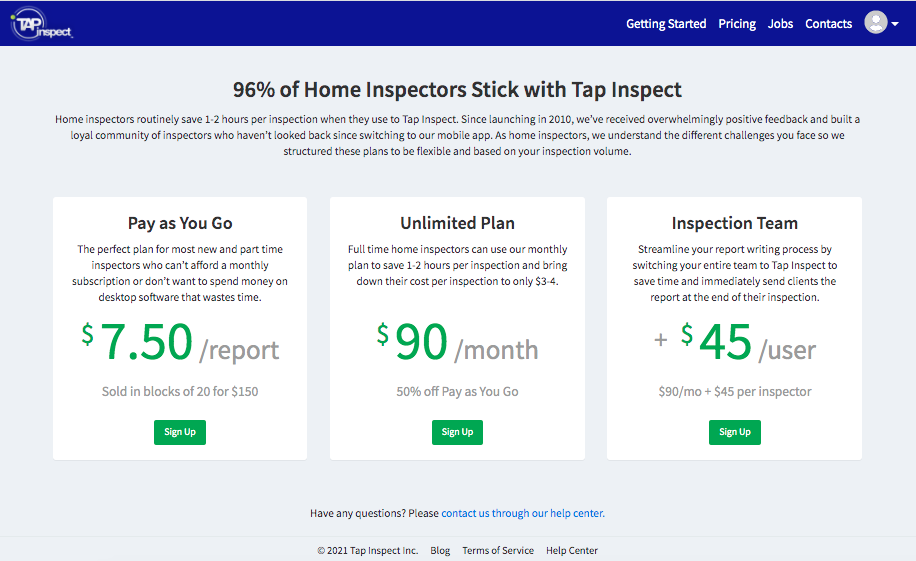 Pay As You Go Plan
If you are a new or part time inspector doing less than 12 reports a month (or 145 reports a year) the Pay As You Go plan is you cheapest option.
With the Pay As You Go plan you purchase a block of reports that are added to any remaining reports in your account (even the free trial reports). They sit in your account until you are ready to use them. There are no monthly or extra sign up fees. Your credit card is only charged when you "Recharge" or purchase a block of reports.
Unlimited Plan
If you do more than 12 reports a month, the Unlimited plan will be cheaper and may also be more convenient. A flat fee will be charged to the credit card you have entered on the same day of the month every month.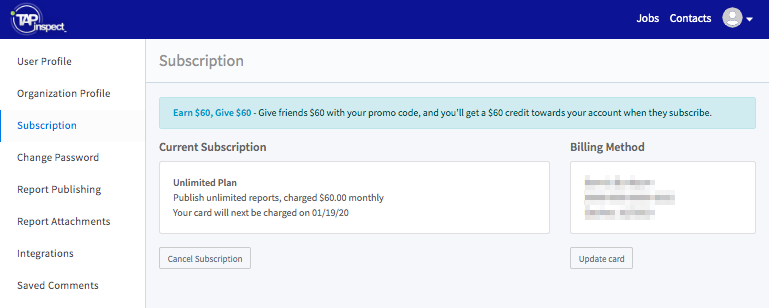 If you started on the Pay As You Go plan and find yourself recharging every few months it may be time to switch over to the Unlimited plan. If you slow back down your can always switch back to Pay As You Go.
Team Plan
The Team plan is ideal if you have multiple inspectors doing reports. Each member of the team shares the same Team information so you can maintain a common identity across multiple inspectors.
For more details on how the Team Plan works take a look our Help Center section dedicated to Teams.
When you subscribe with the Team plan you are charged a flat fee for the 1st inspector who is typically the Team Owner. The Team Owner can then invite and remove additional inspectors as needed.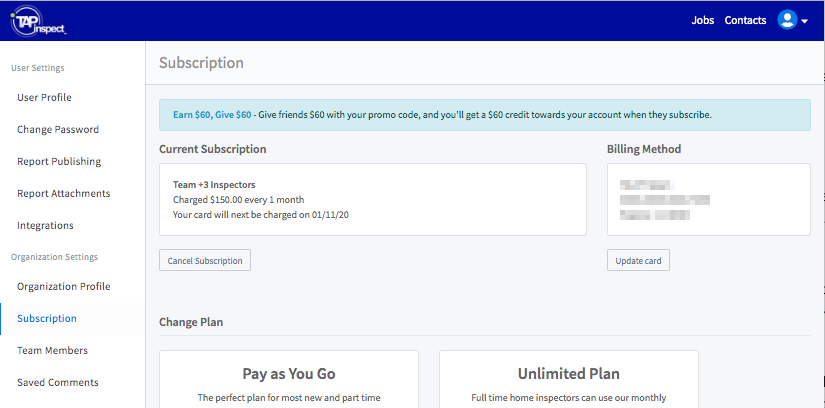 Each inspector you invite to your Team results in an additional $45 per month on your Subscription. When an inspector is removed from the team the additional monthly fee will no longer be charged.