Autopilot messages can be scheduled to be sent before or after many of the triggers that fire during the lifecycle of a job. The scheduled delivery is controlled by the Deliver When dropdown in both email and SMS messages.
When Message Delivery Can Be Scheduled
By default, most messages are sent Immediately when a trigger fires. Such as the Job Confirmed, Job Cancelled, and Results Shared triggers.
NOTE: Autopilot Results Shared triggers are only available with the modern app experience.
Messages can be scheduled to deliver minutes, hours, days, or months after these triggers. This can be useful as a follow-up or to ask for a review.

The Inspection Start Time trigger is a little different. You can schedule messages to send before or after the Inspection Start Time trigger. This will let you send reminders before the inspection.

Working With Scheduled Messages
Scheduled messages are queued in the Messages feed when you confirm or reschedule a job. Tap Show _ scheduled messages to display the queued messages in the feed.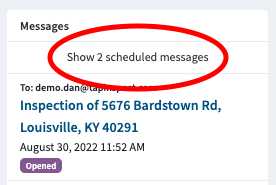 A scheduled message displays a Scheduled tag and the date and time it will be sent.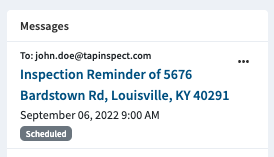 Tap the action button of a scheduled message and you can Cancel Delivery or Send Now.

Modifying Your Scheduled Messages
Keep in mind that if you change one of your Messages, those changes will only be seen in jobs that you Confirm or Reschedule from that point on.
If the message is scheduled to send at some point in time that has passed the message will NOT be queued. This is to prevent accidentally sending possibly dozens of messages by mistake.