Your Saved Comments library is your personal knowledge base of everything you know about home inspections. As you do reports you add, edit, and update comments in your library. It helps your Saved Comments library change and improve as you use the Tap Inspect app to do more and more reports. That in turn helps you finish reports quicker and also maintain consistency from report to report.
From time to time it can be handy to manually edit your saved comments library. You can view and edit all your saved comments from your web account at tapinspect.com.
Just login to your account with the same email and password you use with the Tap Inspect app. Click on Settings in the top right corner, then click on Saved Comments in the menu along the left side of the screen.
Viewing all Your Comments
When you first load the web editor you will be on the All Comments view of the editor. You can tell because the All Comments box is highlighted. The number in that box will tell you how many comments you have in your personal saved comments library. It may be quite a lot. Don't panic.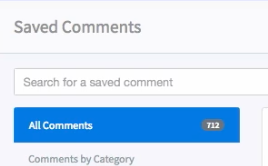 Even if your All Comments list is pretty long you can jump page by page of comments. You can also sort your comments.

By default your All Comments are sorted alphabetically. That makes it super easy to spot duplicate comments and even comments that are very similar just by browsing. You can also sort by Date Added which show the most recently added comments first.
Viewing a Specific Comment
Each comment is displayed with the icon describing the type of comment just like in the Tap Inspect app. You can also see the text of the comment. On the right side of the text you may see one or more tags. Each tag corresponds to a category where the comment is displayed in the Tap inspect app.

Comments with no tags have never been saved to a report. These are likely one of the roughly 1200 default comments that were included when you created your account.
When you see an Exterior tag that comment is displayed when you tap on Saved Exterior Comments in the app. When you see a Waste Line Material tag that comment is displayed in when you tap on Saved Waste Line Material Comments in the app. You may notice that each comment can have multiple tags. That means that specific comment is displayed in each of those places in the app.
What Exactly is a Category
In the Tap Inspect app we talk about sections, subsections, and items. Each of those is a Category as far as your Saved Comments are concerned. Wherever you tap on the Add Comment button in the app it is a Category.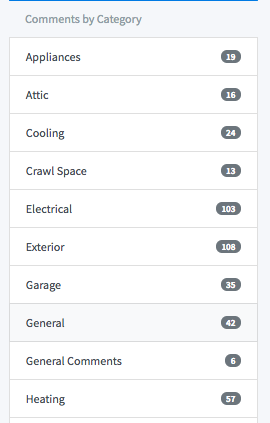 Some people like myself only add their comments to the sections of their reports. That would mean only sections are listed in the Categories in my Saved Comments. Other home inspectors like to record comments in items like the Exterior Covering of the app. That would mean they could see both section and items listed in the categories list of Saved Comments.
Webinar on Using the Saved Comments Web Editor