Tap Inspect jobs can be synchronized with your Google Calendar account. Google Calendar is an included feature with Gmail and G Suite services from Google.
Adding this integration will allow Tap Inspect to create and update events in your Google Calendar and to check your Google Calendar for conflicts when you schedule jobs.
Set Up the Google Calendar Integration
Point your web browser to https://app.tapinspect.com/integrations (login with your email and password if needed) and click on Add Google Calendar.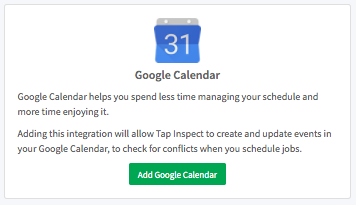 Once you have added the Google Calendar Integration to your account you will need to click on Connect Your Google Account Now.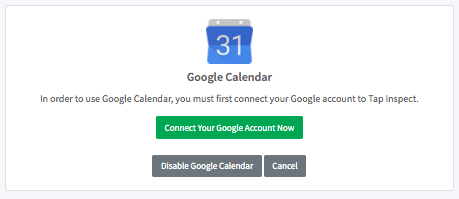 You are then prompted by Google to sign in with the account email and password. That will give Tap Inspect permission to access your Google Calendar.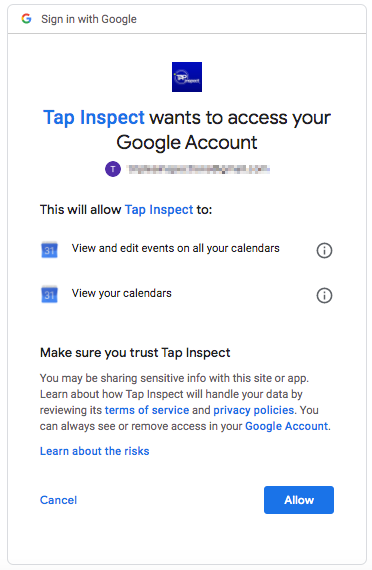 Using the Integration
After you have allowed access your Google Calendar Integration is active. You can monitor the status of the integration from the Google Calendar screen in your Integrations. Any new jobs that are scheduled from this point on will be pushed to your Google Calendar shortly after you have been scheduled.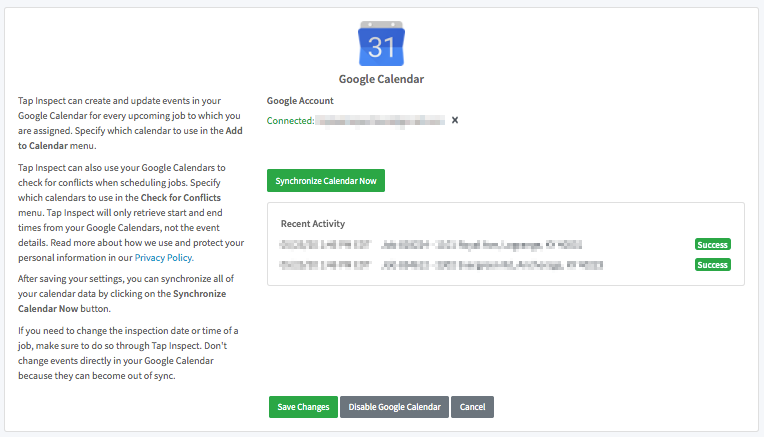 To manually synchronize your existing jobs click on the Synchronize Calendar Now.
Each job will have an event created in the Google calendar you connected with and have job details listed in the notes of the event.
If you need to change the inspection date or time of a job, make sure to do so through Tap Inspect by tapping the link in the event details. Don't change events directly in your Google Calendar because they can become out of sync.