The Jobs page of your web dashboard lets you check the status of the invitations for a job.
Sign in to your Web Account and tap on a Jobs in the title bar. Then tap a specific job to view the details. Each person invited will have a status of their invitation.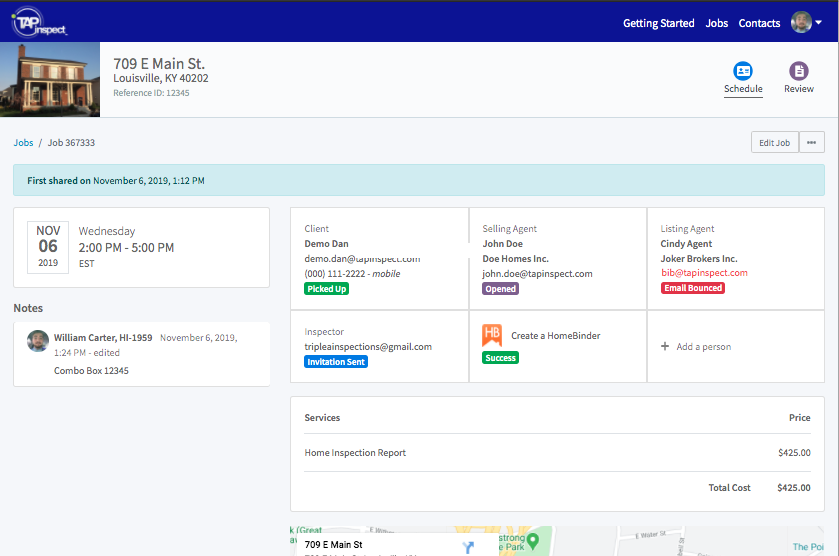 Bounced: That email address was not deliverable. We notify you it was not delivered.
Invitation Sent: An email was sent and it did not bounce back. That is all we know.
Opened: That person has opened the email message but has not clicked the report link.
Picked Up: That person has actually viewed the report. This is when we notify you.
When an Invitation Sent But Not Visible in their Inbox
If a person invited does not see the invitation in their inbox it is either in their Spam or Junk folder. Some email systems have horrible pickup rates that we believe is due to very aggressive spam filters at the server level.
Comcast Emails are Horrible
Just over 50% of the invitations sent to Comcast.Net are opened. This is by far the worst rate for any email domain. Most other email domains like gmail.com, yahoo.com, or aol.com have higher than 85% open rates.
When You Do Not Get a Pickup Notification
It may be hard to believe but only about 80% of clients that were invited actually pick up the report. Many will see it in their email inbox and not bother to view or read the report. Others depend on their agent to get the report and use it for the repair request.
If you have verified the person invited has picked up the report we have likely sent you the notification. Make sure to check your Spam folder and be sure to add inspections@tapinspect.com to your address book.