Permissions tell Tap Inspect how much independence and transparency you want your inspectors to have when working on your team. These settings decide how much access your inspectors have to sensitive company assets, and they can be modified at any time in your web account.
Both permissions, the ability to edit Saved Comments and access company data, are accessible in the Team Members tab of your web settings.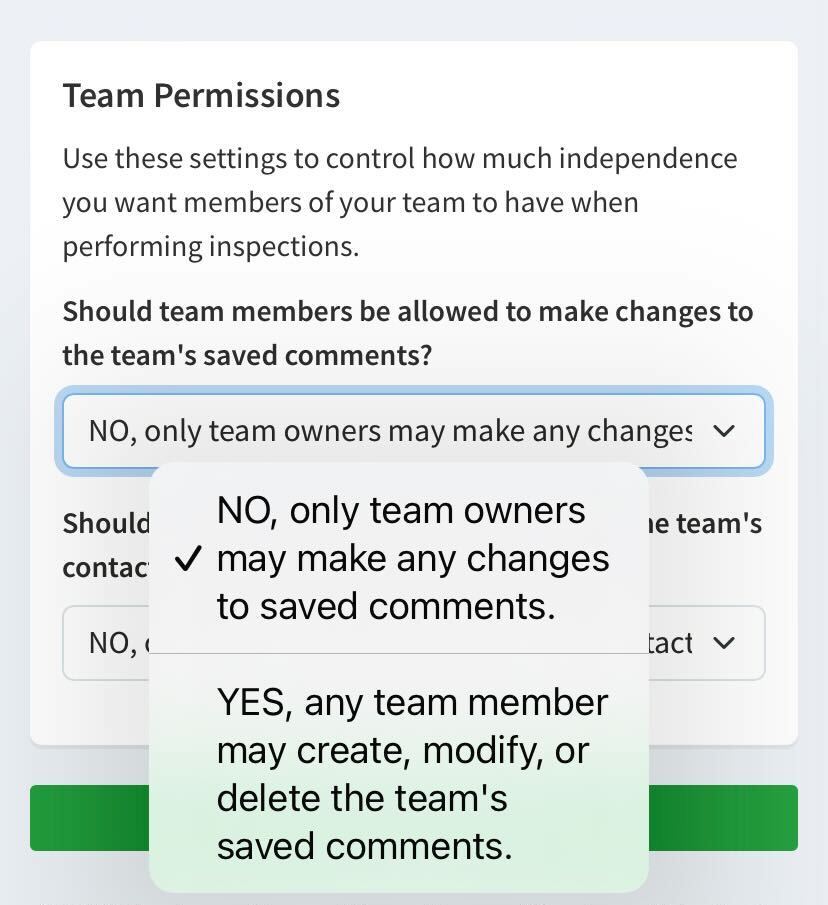 Access to Edit the Team's Saved Comments
Saved Comments are a Team asset that's shared by everyone on your Team, so it's important to make sure that your library adheres to your company's brand and voice.
Granting an inspector access to edit the Team's Saved Comments allows them to freely edit existing comments and add new ones. These changes are reflected in the shared Saved Comments library.
If you deny your inspectors access to edit the Team's Saved Comments, only Team Owners can make changes or add new Saved Comments. Any edits inspectors make on a job-by-job basis will not impact the Team's library.
No matter what, everyone on your Team can use Saved Comments as usual in reports.
Access to Company Data
Granting your inspectors permission to access company data gives them access to the Team's Contact management page and the ability to export the Team's Job History.
Tap Inspect Contacts will autofill when scheduling reports no matter what, but denying this permission prevents your inspectors from being able to access and export the full Contacts list.
Exporting Job History shows the date, client name, property address, and services provided. If this permission is denied, only Team Owners can access this information.