These instructions apply to a current Pay As You Go subscriber. If you are currently a Trial user you will need to subscribe to Tap Inspect.
You can manage your Tap Inspect subscription and purchase more reports from your Tap Inspect web account. Tap on Subscription in the user menu or go directly to your Subscription page.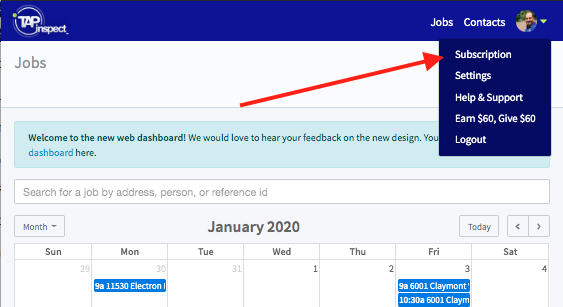 Your Subscription page will display your current subscription as Pay As You Go. You can also see how many reports are remaining and the expiration date of the reports.
Tap on Purchase 20 More Reports. and the Checkout page will be displayed. You should see the card information we have on file.
If you need to change the card info tap on Update Card and you will be taken to our billing system in another tab of your browser. Once you have updated your card info you will need to go back to the Checkout page to complete the purchase.
On the Checkout page, tap on Complete Purchase and you are done. The reports will be available immediately to publish any reports. To verify how many reports you have, synchronize your device and go to the My Account screen of the app.